BASIC INFO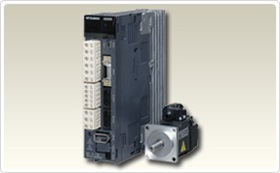 MR-J3 servo family is a high functional, high performance, and easy to use product that offers a wide variety of options to improve total system dynamics, machine performance providing a high performance servo system that is ideal for a wide variety of applications.
Accomplishment of higher performance, functionalities and user friendliness.
Rotary motor capacities are between 50W and 55kW. Linear servo motors and direct drive motors are available.
Servo Amplifier/ Servo motor
Item
Model
Rated output
Main circuit power supply
CHINA LIST Price
MR-J3-A
MR-J3-10A
0.1Kw
3-Phase or 1-Phase 200V AC to 240V AC
¥5,120.00
MR-J3-20A
0.2Kw
3-Phase or 1-Phase 200V AC to 240V AC
¥5,520.00
MR-J3-40A
0.4Kw
3-Phase or 1-Phase 200V AC to 240V AC
¥5,760.00
MR-J3-60A
0.6Kw
3-Phase or 1-Phase 200V AC to 240V AC
¥5,950.00
MR-J3-70A
0.75Kw
3-Phase or 1-Phase 200V AC to 240V AC
¥7,720.00
MR-J3-100A
1 Kw
3-Phase 200V AC to 240V AC
¥7,910.00
MR-J3-200A
2 Kw
3-Phase 200V AC to 240V AC
¥13,200.00
MR-J3-350A
3.5 Kw
3-Phase 200V AC to 240V AC
¥14,080.00
MR-J3-500A
5 Kw
3-Phase 200V AC to 240V AC
¥18,660.00
MR-J3-700A
7 Kw
3-Phase 200V AC to 240V AC
¥22,320.00
MR-J3-11KA
11KW
3-Phase 200V AC to 240V AC
¥44,760.00
MR-J3-15KA
15KW
3-Phase 200V AC to 240V AC
¥47,770.00
MR-J3-B
MR-J3-10B
0.1Kw
3-Phase or 1-Phase 200V AC to 240V AC
¥5,120.00
MR-J3-20B
0.2Kw
3-Phase or 1-Phase 200V AC to 240V AC
¥5,520.00
MR-J3-40B
0.4Kw
3-Phase or 1-Phase 200V AC to 240V AC
¥5,760.00
MR-J3-60B
0.6Kw
3-Phase or 1-Phase 200V AC to 240V AC
¥5,950.00
MR-J3-70B
0.75Kw
3-Phase or 1-Phase 200V AC to 240V AC
¥7,720.00
MR-J3-100B
1 Kw
3-Phase 200V AC to 240V AC
¥7,910.00
MR-J3-200B
2 Kw
3-Phase 200V AC to 240V AC
¥13,200.00
MR-J3-350B
3.5 Kw
3-Phase 200V AC to 240V AC
¥14,080.00
MR-J3-500B
5 Kw
3-Phase 200V AC to 240V AC
¥18,660.00
MR-J3-700B
7 Kw
3-Phase 200V AC to 240V AC
¥22,320.00
MR-J3-11KB
11KW
3-Phase 200V AC to 240V AC
¥44,760.00
MR-J3-15KB
15KW
3-Phase 200V AC to 240V AC
¥47,770.00
Item
Model
Rated output
Rated speed
HF-KP series
HF-KP053
50 W
3000 r/min
¥3,420.00
HF-KP13
100 W
3000 r/min
¥3,580.00
HF-KP23
200 W
3000 r/min
¥4,430.00
HF-KP43
400 W
3000 r/min
¥5,270.00
HF-KP73
750 W
3000 r/min
¥5,410.00
HF-KP series with brake
HF-KP053B
50 W
3000 r/min
¥6,220.00
HF-KP13B
100 W
3000 r/min
¥6,390.00
HF-KP23B
200 W
3000 r/min
¥7,820.00
HF-KP43B
400 W
3000 r/min
¥8,890.00
HF-KP73B
750 W
3000 r/min
¥10,160.00
HF-MP series
HF-MP053
50 W
3000 r/min
¥3,420.00
HF-MP13
100 W
3000 r/min
¥3,580.00
HF-MP23
200 W
3000 r/min
¥4,430.00
HF-MP43
400 W
3000 r/min
¥5,270.00
HF-MP73
750 W
3000 r/min
¥5,410.00
HF-MP series with brake
HF-MP053B
50 W
3000 r/min
¥6,220.00
HF-MP13B
100 W
3000 r/min
¥6,390.00
HF-MP23B
200 W
3000 r/min
¥7,820.00
HF-MP43B
400 W
3000 r/min
¥8,890.00
HF-MP73B
750 W
3000 r/min
¥10,160.00
HF-SP series 2000 r/min
HF-SP52
0.5 KW
2000 r/min
¥5,990.00
HF-SP102
1.0 KW
2000 r/min
¥7,260.00
HF-SP152
1.5 KW
2000 r/min
¥8,970.00
HF-SP202
2.0 KW
2000 r/min
¥10,250.00
HF-SP352
3.5 KW
2000 r/min
¥12,810.00
HF-SP502
5.0 KW
2000 r/min
¥20,090.00
HF-SP702
7.0 KW
2000 r/min
¥22,870.00
HF-SP series 2000 r/min with brake
HF-SP52B
0.5 KW
2000 r/min with brake
¥10,040.00
HF-SP102B
1.0 KW
2000 r/min with brake
¥11,470.00
HF-SP152B
1.5 KW
2000 r/min with brake
¥13,380.00
HF-SP202B
2.0 KW
2000 r/min with brake
¥15,290.00
HF-SP352B
3.5 KW
2000 r/min with brake
¥17,970.00
HF-SP502B
5.0 KW
2000 r/min with brake
¥39,690.00
HF-SP702B
7.0 KW
2000 r/min with brake
¥44,260.00
HF-SP series 1000 r/min
HF-SP51
0.5 KW
1000 r/min
On request
HF-SP81
0.85 KW
1000 r/min
On request
HF-SP121
1.2KW
1000 r/min
On request
HF-SP201
2.0 KW
1000 r/min
On request
HF-SP series 1000 r/min with brake
HF-SP51B
0.5 KW
1000 r/min with brake
On request
HF-SP81B
0.85 KW
1000 r/min with brake
On request
HF-SP121B
1.2KW
1000 r/min with brake
On request
HF-SP201B
2.0 KW
1000 r/min with brake
On request