BASIC INFO

*1. MR-J4-GF-RJ, MR-J4-B-RJ, MR-J4-A-RJ and MR-J4-03A6-RJ are servo amplifiers with special specification.
MELSERVO-JE series ~Reliable Basic Performance and Advanced Ease-of-use~
[Easy To Use]
● Advanced one-touch tuning adjusts servo gains with one-touch ease.
● Instantaneous power failure tough drive function and a large capacity capacitor reduce machine downtime.
[High Performance]
● The dedicated engine enables speed frequency response of 2.0 kHz, shortening the cycle time.
● The large capacity main circuit capacitor allows the regenerative energy to be used effectively.
[Global Standard]
● Global servo, MR-JE series, complies with global standards as standard.
● Command pulse input and digital input/output are compatible with both sink and source type connections.
Rotary servo motors are available in capacities from 10 W to 55 kW.
Linear servo motors and direct drive motors satisfy new needs in driving control by providing high rigidity, performance and flexibility in system configurations unique to a direct drive.
Rotary servo motor
A wide range of capacities and series for various system applications
HG series
for MELSERVO-J4 series
HG series
for MELSERVO-JE series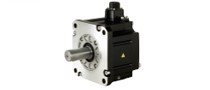 Medium capacity, medium inertia. Suitable for machines having large load inertia.
Capacity: 0.5 kW to 3 kW Rated speed: 2000 r/min
[Application example]
● Material handling systems ● Dedicated machines ● Robots ● Loaders and unloaders ● Winders, tension units ● Turrets ● X-Y tables
Servo Amplifier/ Servo motor (Contact us for special discount)
Item
Model
Rated output
Main circuit power supply
List Price
MR-J4-A
MR-J4-10A
0.1Kw
3-Phase or 1-Phase 200V AC to 240V AC
¥5,120.00
MR-J4-20A
0.2Kw
3-Phase or 1-Phase 200V AC to 240V AC
¥5,520.00
MR-J4-40A
0.4Kw
3-Phase or 1-Phase 200V AC to 240V AC
¥5,760.00
MR-J4-60A
0.6Kw
3-Phase or 1-Phase 200V AC to 240V AC
¥5,950.00
MR-J4-70A
0.75Kw
3-Phase or 1-Phase 200V AC to 240V AC
¥7,720.00
MR-J4-100A
1 Kw
3-Phase 200V AC to 240V AC
¥7,910.00
MR-J4-200A
2 Kw
3-Phase 200V AC to 240V AC
¥13,200.00
MR-J4-350A
3.5 Kw
3-Phase 200V AC to 240V AC
¥14,080.00
MR-J4-500A
5 Kw
3-Phase 200V AC to 240V AC
¥18,660.00
MR-J4-700A
7 Kw
3-Phase 200V AC to 240V AC
¥22,320.00
MR-J4-B
MR-J4-10B
0.1Kw
3-Phase or 1-Phase 200V AC to 240V AC
¥5,120.00
MR-J4-20B
0.2Kw
3-Phase or 1-Phase 200V AC to 240V AC
¥5,520.00
MR-J4-40B
0.4Kw
3-Phase or 1-Phase 200V AC to 240V AC
¥5,760.00
MR-J4-60B
0.6Kw
3-Phase or 1-Phase 200V AC to 240V AC
¥5,950.00
MR-J4-70B
0.75Kw
3-Phase or 1-Phase 200V AC to 240V AC
¥7,720.00
MR-J4-100B
1 Kw
3-Phase 200V AC to 240V AC
¥7,910.00
MR-J4-200B
2 Kw
3-Phase 200V AC to 240V AC
¥13,200.00
MR-J4-350B
3.5 Kw
3-Phase 200V AC to 240V AC
¥14,080.00
MR-J4-500B
5 Kw
3-Phase 200V AC to 240V AC
¥18,660.00
MR-J4-700B
7 Kw
3-Phase 200V AC to 240V AC
¥22,320.00
MR-J4W2-B
MR-J4W2-22B
0.2Kw X 2axes
3-Phase or 1-Phase 200V AC to 240V AC
¥9,200.00
MR-J4W2-44B
0.4Kw X 2 axes
3-Phase or 1-Phase 200V AC to 240V AC
¥9,600.00
MR-J4W2-77B
0.75Kw X 2axes
3-Phase or 1-Phase 200V AC to 240V AC
¥12,900.00
MR-J4W2-1010B
1.0kw X 2axes
3-Phase 200V AC to 240V AC
¥13,200.00
MR-J4W3-B
MR-J4W3-222B
0.2Kw X 3axes
3-Phase or 1-Phase 200V AC to 240V AC
¥13,800.00
MR-J4W3-444B
0.4Kw X 3 axes
3-Phase or 1-Phase 200V AC to 240V AC
¥14,400.00
Item
Model
Rated output
Rated speed
HG-KR series
HG-KR053
50 W
3000 r/min
¥3,420.00
HG-KR13J
100 W
3000 r/min
¥3,580.00
HG-KR23J
200 W
3000 r/min
¥4,430.00
HG-KR43J
400 W
3000 r/min
¥5,270.00
HG-KR73J
750 W
3000 r/min
¥5,410.00
HG-KR series with brake
HG-KR053B
50 W
3000 r/min
¥6,220.00
HG-KR13BJ
100 W
3000 r/min
¥6,390.00
HG-KR23BJ
200 W
3000 r/min
¥7,820.00
HG-KR43BJ
400 W
3000 r/min
¥8,890.00
HG-KR73BJ
750 W
3000 r/min
¥10,160.00
HG-MR series
HG-MR053
50 W
3000 r/min
¥3,420.00
HG-MR13
100 W
3000 r/min
¥3,580.00
HG-MR23
200 W
3000 r/min
¥4,430.00
HG-MR43
400 W
3000 r/min
¥5,270.00
HG-MR73
750 W
3000 r/min
¥5,410.00
HG-MR series with brake
HG-MR053B
50 W
3000 r/min
¥6,220.00
HG-MR13B
100 W
3000 r/min
¥6,390.00
HG-MR23B
200 W
3000 r/min
¥7,820.00
HG-MR43B
400 W
3000 r/min
¥8,890.00
HG-MR73B
750 W
3000 r/min
¥10,160.00
HG-SR series 2000 r/min
HG-SR52J
0.5 KW
2000 r/min
¥5,990.00
HG-SR102J
1.0 KW
2000 r/min
¥7,260.00
HG-SR152J
1.5 KW
2000 r/min
¥8,970.00
HG-SR202J
2.0 KW
2000 r/min
¥10,250.00
HG-SR352J
3.5 KW
2000 r/min
¥12,810.00
HG-SR502J
5.0 KW
2000 r/min
¥20,090.00
HG-SR702J
7.0 KW
2000 r/min
¥22,870.00
HG-SR series 2000 r/min
HG-SR52BJ
0.5 KW
2000 r/min with brake
¥10,040.00
HG-SR102BJ
1.0 KW
2000 r/min with brake
¥11,470.00
HG-SR152BJ
1.5 KW
2000 r/min with brake
¥13,380.00
HG-SR202BJ
2.0 KW
2000 r/min with brake
¥15,290.00
HG-SR352BJ
3.5 KW
2000 r/min with brake
¥17,970.00
HG-SR502BJ
5.0 KW
2000 r/min with brake
¥39,690.00
HG-SR702BJ
7.0 KW
2000 r/min with brake
¥44,260.00
HG-SR series 1000 r/min
HG-SR51J
0.5 KW
1000 r/min
On request
HG-SR81J
0.85 KW
1000 r/min
On request
HG-SR121J
1.2KW
1000 r/min
On request
HG-SR201J
2.0 KW
1000 r/min
On request
HG-SR301J
3.0 KW
1000 r/min
On request
HG-SR421J
4.2 KW
1000 r/min
On request
HG-SR series 1000 r/min
HG-SR51BJ
0.5 KW
1000 r/min with brake
On request
HG-SR81BJ
0.85 KW
1000 r/min with brake
On request
HG-SR121BJ
1.2KW
1000 r/min with brake
On request
HG-SR201BJ
2.0 KW
1000 r/min with brake
On request
HG-SR301BJ
3.0 KW
1000 r/min with brake
On request
HG-SR421BJ
4.2 KW
1000 r/min with brake
On request