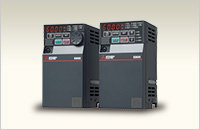 BASIC INFO
FR-E800 SERIES
The FR-E800 Series variable frequency drive is built upon Mitsubishi Electric's proven variable speed control technology throughout years of reliable operation across various constant and variable torque applications. Designed to save energy and minimize cost, the FR-E800 brings together advances in quality, performance, and predictive maintenance capabilities in one multi-purpose inverter.
Key Benefits
Compact Design - Save space with a compact footprint to control 3-phase motors up to 10HP (with expansion in the future) at 200V, 400V and 600V.
Dual Overload Rating - Achieve top performance in smaller frame sizes with light duty (LD) and normal duty (ND) overload current ratings.
Auto-tune to IM & PM Motors - Setup and commission quickly and easily without time-consuming tuning or the need for on-site support.
RS-485 and "Dual-Port" Ethernet Protocol Models - Switch between Ethernet protocols simply by changing internal parameters. The FR-E800 series inverters support a variety of open networks without the need for additional option cards.
MELSEC 2K Step PLC - Reduce internal components and save panel space, eliminating wiring time, and reducing system setup times. Operation of the system can be customized by the FR-E800's built-in PLC feature
Inverter-to-Inverter Linking - Create small-scale systems by connecting multiple VFDs via Ethernet protocols. The communication between multiple inverters is carried out through the inputs/outputs and built-in PLC.
Extended Environmental Rating - FR-E800 operates in ambient temperatures from -20°C to 60°C (-5 to 140°F) and the control card is conformal coated to withstand harsh environments.
Corrosion Alert System - FR-E800 is the world's first* system to identify signs of damage caused by hydrogen sulfide or other corrosive gases. The operator receives a notification when the production environment needs to be improved or risk the possibility of unplanned downtime.
Life Diagnostics Function - Analyze and determine remaining lifetime of critical components, such as capacitors, contact relays, cooling fan, and inrush current limit resistor.
BUILT-IN PLC FUNCTION
FR-E800 users can set various operation patterns: inverter movements at signal inputs, signal outputs at particular inverter statuses, and monitor outputs, etc. Operation of the system can be customized by the inverter alone.
VARIOUS ETHERNET PROTOCOLS
FR-E800 inverters support a variety of open networks without using any option cards. With built-in protocols, the FR-E800 can communicate via various networks, assuring compatibility with existing systems. Users can select a protocol group suitable for the intended system:
CONTROL BOTH IM AND PM MOTORS
Auto-tune to both IE3/IE4 Induction Motors (IM) and Permanent Magnet (PM) motors via simple parameter setup to increase performance, minimize noise level, and reduce commissioning time.
FR-E800 inverters support both induction and permanent motors
Accurate auto-tuning in 3-easy steps
Easy step-by-step replacement of existing induction and permanent magnet motors
No pressure to upgrade all of the system's motors at one time

NOMENCLATURE CHART

DUAL RATING
For LD rating for light duty applications, a smaller capacity controller may be used to drive a larger motor, resulting in reduced footprint and cost.