BASIC INFO
Safety programmable controller MELSEC-QS Series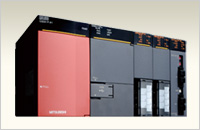 The safety programmable controller is compliant with international safety standards, EN ISO 13849-1 Category 4/PL e and IEC 61508 SIL 3. It is ideal for medium to large-scale safety control systems. Ladder programs and certified safety function blocks*1 realize flexible programming.
Product name
Model *
Safety CPU
QS001CPU (-K)
Safety main base
QS034B (-K)
Safety power supply
QS061P-A1 (-K)
QS061P-A2 (-K)
CC-Link IE Field Network master/local (with Safety Communication Functions)
QS0J71GF11-T2
CC-Link Safety system master
QS0J61BT12 (-K)
CC-Link Safety system remote I/O
QS0J65BTB2-12DT (-K)
QS0J65BTS2-8D
QS0J65BTS2-4T
Safety controller MELSEC-WS Series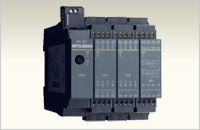 This compact safety controller complies with EN ISO 13849-1 Category 4/PL e and IEC 61508 SIL 3 safety standards. It is ideal for small to medium-scale safety control system. Safety I/O points can be extended to 144 points per CPU module according to the system configuration. Utilizing the dedicated Setting and Monitoring Tool*1, setup and logic creation can be easily done.
Product name
Model
Abbreviated product model name
CPU
WS0-CPU000200
WS0-CPU0
CPU (with EFI)
WS0-CPU130202
WS0-CPU1
CPU (with EFI, Flexi Line)
WS0-CPU320202
WS0-CPU3
Memory plug for CPU
(for WS0-CPU0/WS0-CPU1)
WS0-MPL000201
WS0-MPL0
Memory plug for CPU
(for WS0-CPU3)
WS0-MPL100201
WS0-MPL1
Safety input
WS0-XTDI80202
WS0-XTDI
Safety I/O combined
WS0-XTIO84202
WS0-XTIO
Safety relay output
WS0-4RO4002
WS0-4RO
USB/RS-232 conversion cable
WS0-C20M8U, WS0-UC-232A
—
RS-232 cable connecting to CPU
WS0-C20R2
—
CC-Link interface
WS0-GCC100202
WS0-GCC1
Ethernet interface
WS0-GETH00200
WS0-GETH
Screw-in replacement terminal block
WS0-TBS4
—
Spring clamp replacement terminal block
WS0-TBC4
—
Setting and Monitoring Tool
SW1DNN-WS0ADR-B
—
Safety relay module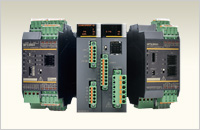 The safety relay module integrates the emergency stop circuit and the restart circuit with a double safety relay. A basic safety function can be realized with just wiring, eliminating the need for programming and parameter settings. Furthermore, the number of I/O points can be increased by adding extension modules.
Product name
Model
MELSEC-Q Series safety relay module
QS90SR2SP-Q
QS90SR2SN-Q
CC-Link safety relay module
QS90SR2SP-CC
QS90SR2SN-CC
Extension safety relay module
QS90SR2SP-EX
QS90SR2SN-EX
Safety circuit part extension cable
QS90CBL-SE01
QS90CBL-SE15